What started as a Grace Kids summer giving project turned into a six-month journey that God used to impact people across the street and around the world.
During "Family Boot Camp" in July of 2021, Grace Kids introduced hundreds of children to the Kunda people of Zambia, an unreached people group located in Africa. The Seed Company, a Bible translation organization and Grace Church missions partner, was working to provide the New Testament in the Kunda people's language, Chikunda, but the project required a financial partnership. This translation endeavor became the VBS giving project of the week, intending to raise $15,000 so the Seed Company could complete the New Testament and deliver the Kunda people a Bible in their native language.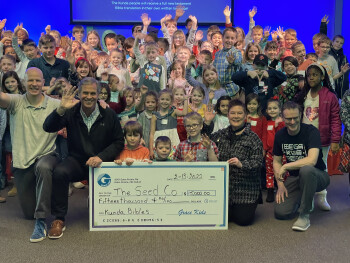 No one knew how much they'd be able to raise in the week, but the kids worked hard and brought in coins and bills that added up to be almost $3,000. Tim Schellhammer, Pastor of Grace Kids, remembered his thoughts about the project from the end of Family Boot Camp, "I was excited about that number because that's exactly where God had planned for us to be at that point in the process. I think sometimes there's this idea of instant gratification. How long are you willing to commit, or how hard are you willing to work?" He recalled announcing from the stage, "I don't know how long it's going to take to get the remaining $12,000, or if we will even get the remaining $12,000, but we're going to keep working at this for the weeks and months to come!"
After Family Boot Camp ended, giving stations were set up in the Grace Kids areas of the church, and paper thermometers were posted to keep track of the total dollars collected. Then, an individual donor came forward willing to match up to $5,000. Pastor Tim encouraged parents to let their kids "labor for and steward toward" the goal, and the kids took ownership of the project. Grace Kids raised a total of $5,000 throughout the fall.
The task was successful but faced hardship too. Sadly, two of the three translators working on this project through the Seed Company passed away in the fall. But, both the Seed Company and Grace Kids continued to persevere, and by the end of December, $15,000 was raised towards the New Testament translation.
Tim said of the project, "It was a reminder to me of God's timing versus our timing, of endurance and perseverance, sticking with something that you set out to do, not getting caught up in how fast or how slow, or who the pennies are going to come from… It was really encouraging to me to experience the six-month process fully. I don't know if I, or families, or kids, would have been able to fully appreciate it if it had been a four-day VBS project."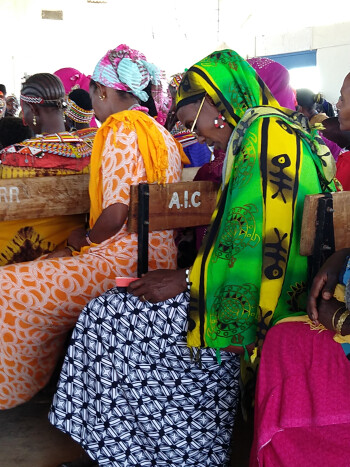 Kendra Brown, a project manager for the Seed Company and a Grace attender herself, was present for a check presentation and celebration on February 13 of this year. She brought a message from her coworker, Ramby Campbell, who knows the impact of this task first-hand. "In a short period of time, the Kunda people will hold a dedication of their own celebrating God's Word in their mother tongue language… Their lives will be different because of your sacrificial giving. Thank you so much for your investment in the Kunda people and God's Kingdom. Praise be to God."
Pastor Dave Gibson, Senior Director of Missions and Evangelism for Grace Church, also attended the check presentation and shared a similar sentiment, "These kids get so excited about getting the Word of God to an unreached people group in Zambia, Africa. I was moved to tears; it was so exciting. And I'm just so thrilled that Pastor Tim and the Children's Ministry Team are raising up the new generation of kids and young people that are excited about getting the Word of God to every tribe, every tongue, every people, and every nation. All I can say is praise the Lord."