He was 12 years old. He knew poverty and difficulty too well. When he was invited to come to a community gathering to receive an Operation Christmas Child box, he refused. "God has done nothing for me," he told the community's pastor, "so I'm not going."
"Why don't you at least give it a try?" the pastor responded.
"I don't want to."
"I think you should."
Finally, the boy said, "The only way I'll know God is real is if there is a Spiderman doll in the box."
"Let's just go and see," the pastor replied.
Off they went to the Christmas community gathering, where multiple children from the village received boxes from around the world, all packed with care. The pastor handed the little boy a box, who reluctantly took it, his lips drawn tight. He lifted the lid — and there inside was not just a Spiderman doll, but Spiderman socks, Spiderman PJ's, Spiderman coloring books, and more. That's when the little boy knew that not only was God real but that God loved him.
This story may sound unbelievable, but this is exactly how God works in Operation Christmas Child — awe-inspiring, jaw-dropping, almost too good to be true.
But none of these boxes would be able to land in the hands of these children without the help of volunteers — volunteers like Grace Church attendees.
However, with job losses, quarantine, and more this year, Leah Rolley, a Grace attendee who oversees the Operation Christmas Child project, battled nerves about this year's packing. Would people come? What had started as a small family affair for her and her family almost 20 years ago had grown into neighborhood packing parties, small group serving projects, and now a church-wide volunteer opportunity at Grace. She didn't want to see that involvement and impact paused. "There was a lot of discouragement this year," she admitted. "I gave it to the Lord and said, 'This is Yours, not ours. Will You bring the people?'"
Leah knew the stakes of such a project. These boxes bring physical and spiritual salvation. Samaritan's Purse, the organization behind Operation Christmas Child, brings a Gospel presentation to each community, illustrating how Jesus is the ultimate gift. From home packing parties to processing plants, navigation through customs and transportation of all kinds, God brings the boxes through multiple hoops to land in the laps of vulnerable children throughout the world. Many times, a box's content is exactly what the child needs — shoes for blistered feet, toiletries to stay clean, school supplies so the child can continue their education — showing them that God knows how to meet each of their needs. Indeed, these boxes carry true weight.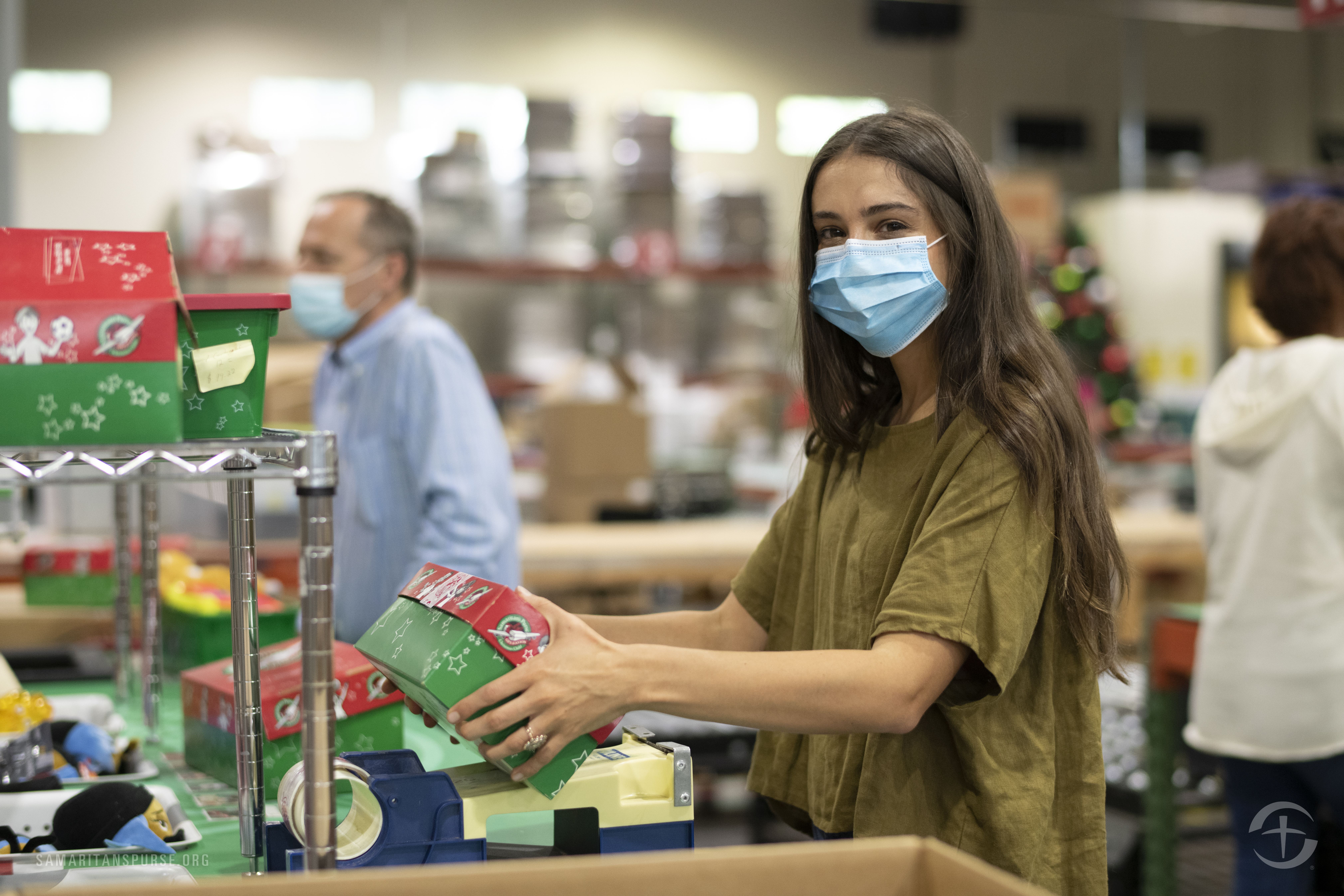 "The Lord is going to change a child's life," Dale Redmer, a faithful Grace attendee and volunteer, said. "These boxes move people to a life-saving, life-changing relationship with the Lord." He and his wife, Lekeita, have volunteered at Grace for years, especially with Operation Christmas Child. Dale is even a former Samaritan's Purse disaster relief team member. Like Leah, they knew the stakes.
Well, God moved within Grace! Our church family showed up to pack 942 boxes for children across the world. Leah was blown away. "The Lord provided just what we needed!" She didn't even have to solicit anyone — the texts, emails, and calls with requests to help came flooding in independently. College students delivered takeout food to bring in extra income to pay for boxes. Dale and Lekeita shopped with their grandchildren, displaying for them the joy of serving those who are less fortunate. For Leah and her husband and children, it was a whole family affair.
"When we're challenged to serve, we think it's going to be us giving, yet you receive so much more than you ever give," Leah said. "You listen to the lies that you won't have the energy or time, but there's a joy — a mysterious joy that can only be of the Lord."
Lekeita echoed that sentiment. "Catch the joy to serve as a family," she encouraged. "It's contagious. There's nothing like sharing the Gospel and love with those in need."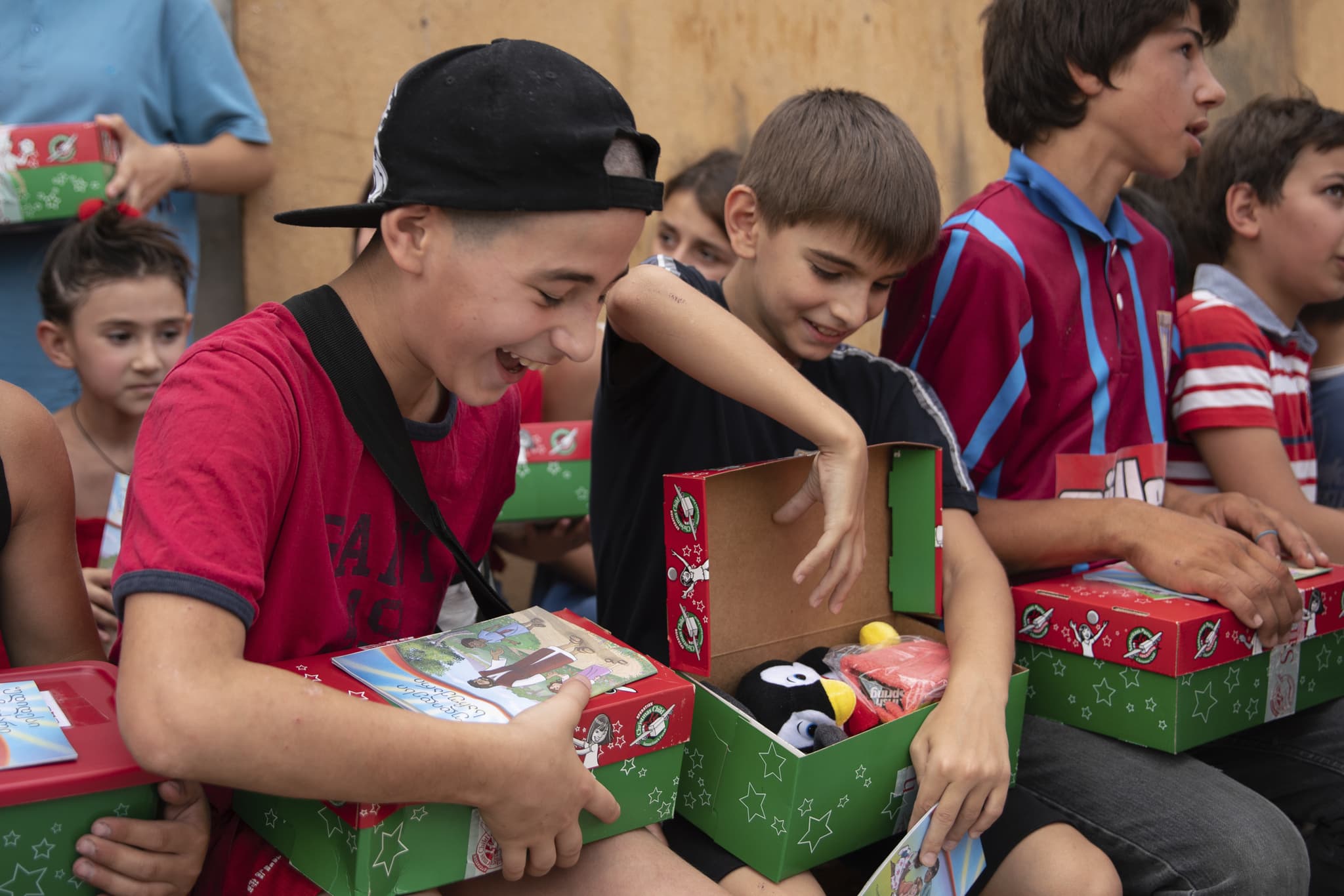 Operation Christmas Child is one way Grace strives to live out its mission of making disciples of Jesus Christ across the street and around the world. "That was the strongest drawing card for us," Dale said, referring to Grace's emphasis on outreach and missions as he and Lekeita chose a church years ago. "We can't do one and exclude the other."
With 942 boxes, it's clear God is moving within Grace. "We saw Grace Church step up this year especially," Leah said.
But it didn't stop at Operation Christmas Child; other ministries within Grace hosted outreach events such as a school supplies drive, and parties to pack care packages for people experiencing homelessness and backpacks for kids entering foster care.
Even in a year like 2020, joy is still contagious. God is still moving. Grace Church is still stepping up. And for the little boy who received the Spiderman doll, that was everything.