Dear friends,
Many of you are experiencing, in some way, the pain resulting from the brokenness and division in our world. God is moving, and much of this is due to your extraordinary commitment to His cause, praying and sacrificing to make disciples across the street and around the world. Together, with our friends and partners, we are seeing the impossible. The Gospel is changing lives in difficult-to-reach places like Algeria, China, India, Indonesia, Iran, Iraq, Libya, Myanmar, Nigeria, Russia, Saudi Arabia, Somalia, Sudan, Syria, Tunisia, Uzbekistan, Vietnam, and many more.
"Despite the risk, despite the cost, new believers around the world are being baptized as an act of obedience in their relationship with Christ. Pray for these believers to continue to grow and share their faith with those around them."
– TTI Global
Our theme for Missions Week this year is "Together." God is bringing His Church together in these trying days. During our Missions Week, you will be inspired by some of the world's most influential NextGen leaders. Hear how God is bringing us together in unprecedented ways. Together we are experiencing a convergence of prayer and mission, with a common vision to see everyone, everywhere, prayed for by name and connected to the Bible, a Believer, and Body of Christ in the next decade. Jesus changes everything. He is changing us and the world as we commit to pray, give, and go for the glory of His name.
Learn More About Missions Week
I encourage you, if possible, to join us in person on Sunday, October 31, and Sunday, November 7 to give praise to God and be encouraged and inspired in the days ahead. Will you prayerfully ask the Lord to direct your response to the call to make a personal commitment to The CAUSE? Your commitment directly impacts the support we can give to our missionaries, strategic projects, and missions initiatives across the street and around the world. You can respond on Sunday by dropping a Commitment card in a giving station or by going online to grace.church/commitment.
As we enter into this next season together, I want to encourage each of you to stretch your faith and strengthen your resolve to pray, give, and go share the Gospel for the glory of His name among the nations.
"And this Gospel of the Kingdom will be proclaimed throughout the whole world as a testimony to all nations, and then the end will come." (Matthew 24:14)
Together we can reach the world,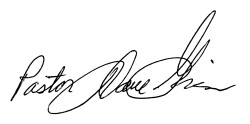 Pastor Dave Gibson
Sr. Director of Missions and Evangelism